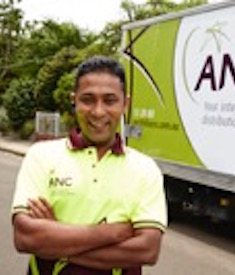 Kyaw Kyaw (a.k.a. KK)
Delivery Driver & Team Leader (NSW)
What do you do at ANC?
Much of my day is spent delivering an amazing range of IKEA and Fantastic Furniture goods to excited people in their homes. I also source delivery drivers, offsiders and vehicles and help train them so they are compliant and ready to hit the road.
Transport career experience?
I started with ANC in 2013 as a van driver. Today I'm a principle contractor who provides good quality vehicles, drivers and offsiders for ANC's fleet.
Favourite part of your job?
I love to meet people and make the impossible job possible. I put my whole heart into every job to give clients and customers the best experience.
What do you like to do when you are not working?
If I am not personally driving or off-siding for one of our team, I'm making sure they are happy and coping well with the job for the day. I like to help others get ahead in life so will try to provide them with every opportunity possible.
What do you think delivering extraordinary experiences means?
I want to be a good role model for all of our team. I want to make sure that every customer we deliver to comes away feeling like we have made their day with a smile.